"Watch Disasters," a new series on Time+Tide, features spooky details about various incidents when owning an expensive watch goes wrong. It will be uncomfortable to read, so prepare for pain. Admittedly, this is a bit of a soft start. The prodigal son in the title gave it to someone else. If something goes wrong with your watch and it doesn't end well, please let us know.
In fact, I lost these replica watches. I have a collection of watches, and I hide them in different places. This watch, I forgot where it was for a good three years. I turned my house upside down, and I couldn't find it. I reached a point where I had to emotionally detach and move on from it. But because I didn't realize it was lost for a few months, which somehow made it better when the realization came that I couldn't find it. That's fine, I thought, I've lost it.
Then I had a good idea. I was going on a trip before I hid it. It'll be in my bag! I rummaged through my bag but couldn't find my fake watch. Sometimes later I actually had to travel and put things in the secret compartment of my bag. And there it was. I love this watch. I have a big collection, but this gets top two or three wrist time, next to an AP Offshore, which is my weekend watch, and my Rolex Sea-Dweller.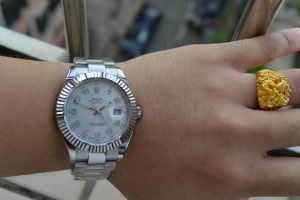 I first bought it around 2009. You can really see the difference in my perspective compared to the GMT hand ending on the new Pepsi. The black paint was not applied correctly. This GMT pointer is perfect and better in detail. Novices and text are really fun. It's amazing. It has a lot of character for me. I have a man who lives in the sea, and this on his wrist is a breath of fresh air.