The world of Rolex watches is filled with fascinating stories, unique models, and special editions that often leave enthusiasts in awe. Among these remarkable timepieces, there's one that has sparked much curiosity and debate – the Rolex Daytona with 24 Hours at Daytona 'Winner' engraving on its case back. In this blog, we will debunk the myth and uncover the truth behind this distinctive Rolex Daytona.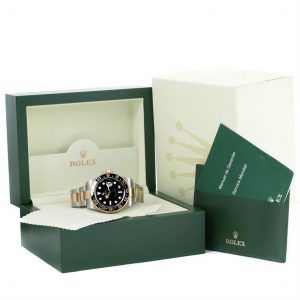 It's not uncommon for Rolex to celebrate significant events in the world of sports, and the Rolex Daytona with the 'Winner' engraving is a prime example. This watch is a tribute to the winners of the prestigious Rolex 24 at the Daytona race, one of the most iconic endurance races in motorsports.
A few years ago, the spotlight shone on Nick Boulle, whose victory at the 55th Annual Rolex 24 at Daytona earned him a special Rolex Cosmograph Daytona ref. 116523. This watch was engraved on the case back with the Rolex 24 Daytona logo and the word 'Winner.' Contrary to the myth that these watches are fake, I had the privilege of examining Nick Boulle's timepiece up close and can confirm that it is indeed a genuine Rolex.
What sets these Rolex Daytona 'Winner' watches apart is not just the engraving but also the special packaging that accompanies them. These timepieces come in a distinctive box, departing from the traditional Rolex packaging. Instead of the iconic wavy pattern on the box lid, it features a checkered flag and a racetrack motif, emphasizing its connection to the world of motorsports.
Inside the box, you'll find a prominent green Rolex logo, a green suede service pouch, and a warranty card that is pre-filled with 'Rolex 24 2017' under the purchaser field. The date on the card corresponds to when the race took place, adding to the authenticity of the entire package.
Conclusion:
With their unique engraving, special packaging, and connection to a prestigious racing event, these Rolex Daytona are cherished timepieces that hold a special place in the hearts of motorsport enthusiasts and Rolex collectors alike.